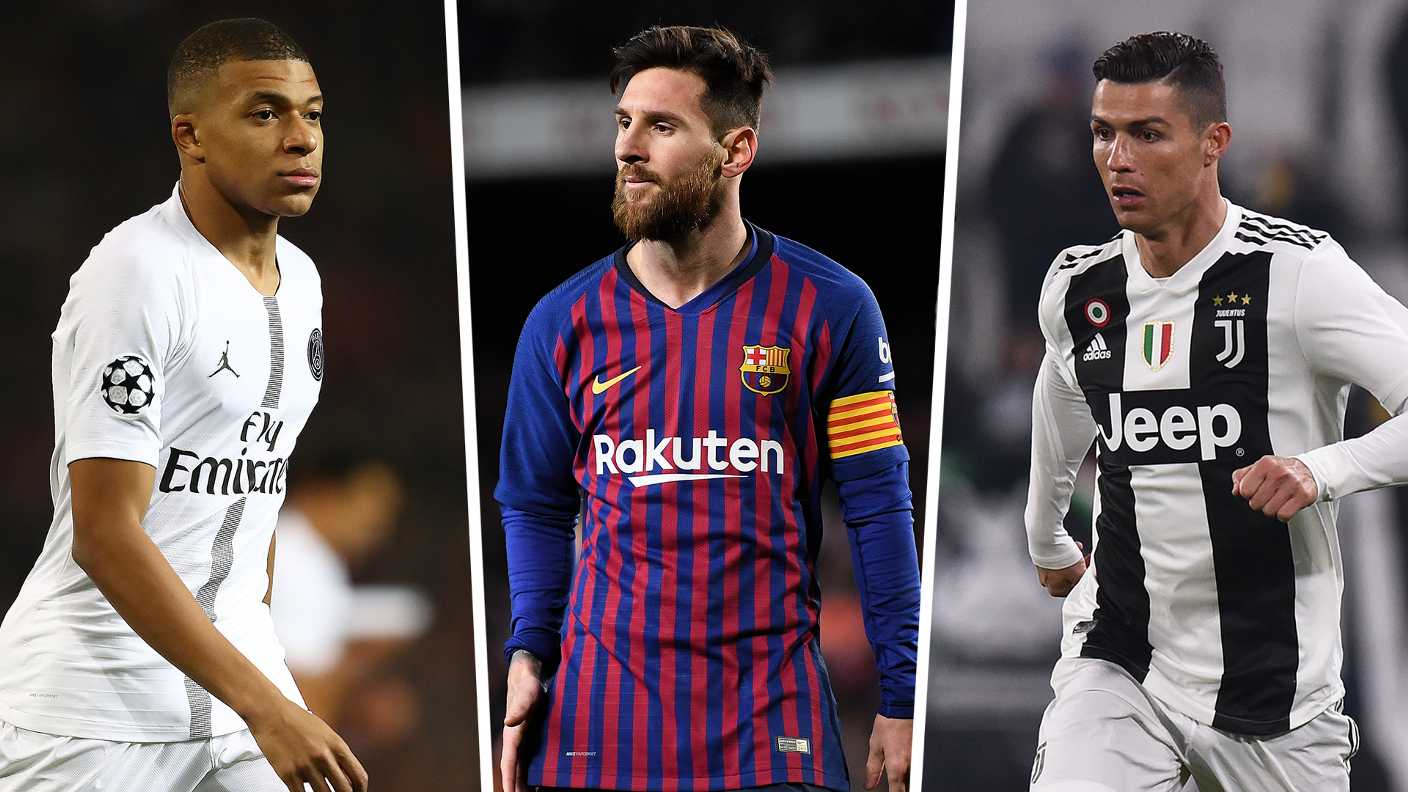 Getty/Goal

The European Golden Shoe is an award given out to the top scorer in European leagues since 1967/1968. The award is handed out by European Sports media.
Coefficients are given out to leagues based on their UEFA ranking. Hence, fewer goals scored in a tougher league are ranked higher than more goals in a weaker league.
The goals are multiplied by a factor of 2 in the leagues ranked one to five (LaLiga - Ligue 1), while leagues ranked six to twenty-one (Russian Premier League - Belarus Vyseyshaya) are multiplied by a factor of 1.5 and leagues ranked twenty-two and below are multiplied by one.
Lionel Messi is the current holder of the award, after winning it for a record fifth time at the end of last season.
Having entered the business end of the campaign, the race is beginning to narrow down to the usual suspects although there are still one or two surprises. In this piece, we present the top 10 candidates in the race for the 2019 European Golden Shoe.
Note - All stats correct as of February 4 2019
#

10 Duvan Zapata (Atalanta)
Zapata in the colours of Atalanta BC
Zapata in the colours of Atalanta BC
League - Italian Serie A (X2)
15 GOALS (30 POINTS)
The 27-year-old has been in sensational form this season at Atalanta on loan from Sampdoria.
Earlier on in the season, he became the first Atalanta player in over 60 years to score 4 goals in a single Serie A match when he scored a quadruple in a 5-0 win away to Frosinone, while he had scored a brace in a 2-2 draw with Juventus in December.
He currently has 15 goals in the current campaign and is only two goals shy of top marksman Cristiano Ronaldo in the scorer's chart.
#

9 Luis Suarez (Barcelona)
Luis Suarez
Luis Suarez
League - Spanish La Liga (X2)
15 GOALS (30 POINTS)
The Uruguayan international has been so adept at scoring goals throughout his career that he has arguably been the standout striker in the world over the last decade.
A serial winner at both club and international level, the 31-year-old built his legacy as a premier striker during stints with Ajax and Liverpool, but it is with Barcelona where he exploded to another level, helping the Blaugrana to a treble in his debut season with the club.
Suarez is also no stranger to finishing as top scorer, having won the Golden Boot in the Dutch League, La Liga and Premier League (the only man in history to have achieved such feat), while he is also a two-time winner of the European Golden shoe (the only man in the last decade to beat the eternal duo of Messi and Ronaldo to the award).
He has faced a lot of criticism in recent seasons for his tendency to start seasons slowly and laborious play, but players of the calibre of Luis Suarez have seen it all, and he took the criticisms square on the chin, bouncing back in the only way he knows how - scoring goals and silencing the critics.
Despite his slow start, Suarez has bounced back in recent months, and was one of the players who stepped up and helped Barcelona cope with Messi's injury enforced absence earlier in the season.
He has scored 15 goals in 21 La Liga matches this season, while also contributing five assists to help Barca consolidate their spot atop the standings in La Liga.
#

8 Pierre-Emerick Aubameyang (Arsenal)
Pierre-Emerick Aubameyang
Pierre-Emerick Aubameyang
League - English Premier League (X2)
15 GOALS (30 POINTS)
Establishing himself as an elite striker with his performances for Borussia Dortmund in the Bundesliga, Pierre-Emerick Aubameyang finished as the Bundesliga top scorer in 2017 with 31 goals from 32 matches ahead of Robert Lewandowski.
He fell out with the BVB board and agitated for a move away from Germany, pleading for one of Europe's big sides to come and take him away.
It therefore, came as a surprise when none of the established European clubs sought his services, especially when most of them, including Chelsea and Manchester United, had problems in the striking department.
As it happened, Arsene Wenger was the one with the foresight to bring the 29-year-old to the EPL, splashing a club record fee to sign him on transfer deadline day in January 2018.
To say that Aubameyang has repaid the investment would be a massive understatement, as he has scored 25 goals in just 37 EPL matches.
This season, Aubameyang has been exquisite, sitting second in the Premier League scorers chart with 15 goals (which is no mean feat when you consider the quality of attackers on display in the league). And in Arsenal's quest to reclaim a top-four spot, the Gabonese's goals would be crucial.
#

7 Nicolas Pepe (OSC Lille)
Nicolas Pepe
Nicolas Pepe
League - French Ligue 1 (X2)
16 GOALS (32 POINTS)
Not much was known about Nicolas Pepe in seasons gone by (his wikipedia page is rather sparse), but this season, he has been breathtaking to say the least, and is one of the most sought after players in Europe, with most of the major clubs competing with each other to get his signature.
So far this campaign, the 23-year-old Ivorian international has scored 16 goals and registered eight assists from 23 Ligue 1 matches to help the 2011 league champions sit second in the current campaign.
Owing to his impressive form, it is no surprise to know that he is on the radar of major clubs in Europe, as reports have emanated that Arsenal have identified him as a priority signing ahead of next campaign, and if he is to keep up this from, it is hard to see Lille holding on to him for much longer.
#6

Edinson Cavani (PSG)
League - French Ligue 1 (X2)
16 GOALS (32 POINTS)
Long in the shadow of Zlatan Ibrahimovic ever since his 2013 arrival from Napoli, the Uruguayan international was forced to play out wide to accommodate the more established Zlatan for much of his early PSG career.
The Swedish record goalscorer's departure in 2016 offered Cavani the chance to be the main striker of the team, and he has flourished since then in his more preferred central role.
In each of the first two seasons following Ibrahimovic's departure, Cavani won the Ligue 1 Golden Boot, scoring 35 goals and 28 goals respectively.
He has however faced criticism for his non-performance in the Champions League knockout rounds (which is where PSG have their sights set on), and the arrivals of Neymar and Mbappe might have robbed him off his star status to some degree, but he is still delivering the goods.
So far this season, he has scored 16 goals in 15 Ligue 1 matches, helping PSG set a new French record of winning their first twelve matches consecutively, in what is likely to be a procession to an eighth French league title in the last nine years.
#

5 Mo Salah (Liverpool)
Mo Salah in action for Liverpool FC in the Premier League
Mo Salah in action for Liverpool FC in the Premier League
League - English Premier League (X2)
16 GOALS (32 POINTS)
Having initially struggled to match the heights reached last season where he scored a whopping 44 goals across all competitions and had a clean sweep of all the individual awards in England, Mo Salah has settled back into devastating form.
The 25-year-old Egyptian currently has 16 goals from 24 EPL matches this season, while also contributing an impressive seven assists to help The Reds keep up their impressive run this campaign which currently sees them topping the Premier League table with a three-point gap over second-placed Manchester City.
Mo Salah's form was crucial to Liverpool's performance last season and this was evident by how they struggled in his absence after the Egyptian dislocated his shoulder in last season's UCL final with Real Madrid. With even more at stake this season, fans of The Reds would be hoping their number 11 can keep up his impressive form, as it could help end their three-decade wait for league glory.
#

4 Fabio Quagliarella (Sampdoria)
Fabio Quagliarella in action for Sampdoria
Fabio Quagliarella in action for Sampdoria
League - Italian Serie A (X2)
16 GOALS (32 POINTS)
Even at the grand old age of 36, Fabio Quagliarella is still waxing strong, showing that he has not lost any of the predatory and finishing instincts he has acquired in 20 years of being a professional footballer.
The former Juventus, Napoli and Fiorentina man is currently representing his tenth different Italian club side and though he might be in the latter stages of his career, apparently, has plans of sailing off into the sunset with the Capocannoneire prize in hand.
He recently achieved the unique feat of scoring in eleven consecutive Serie A fixtures, which equalled the record set by the legendary Batistuta over 20 years ago and even though the run unfortunately came to an end in Sampdoria's 3-0 loss to Napoli over the weekend, it takes nothing away from the wonderful season which Fabio Quagliarella has had up until this point.
#

3 Cristiano Ronaldo (Juventus)
Ronaldo is the highest goalscorer in Serie A
League - Italian Serie A (X2)
17 GOALS (34 POINTS)
Are there still any words in the dictionary to describe this man?
Cristiano Ronaldo has broken, set and reset records throughout his career, and his personal milestones (alongside Messi) are so great that they have completely altered our perceptions of football over the last decade.
He is the all-time record goalscorer for Real Madrid, as well as the Portuguese national team and in the Champions League, as he seems to have mastered the art of goalscoring, making it look so easy.
His numerous Golden Boots serve as an illustration of his prowess in front of goal, and even at the grand 'old' age of 33, he still seems to be waxing strong.
When Ronaldo was transferred to Juventus for a club and league record fee in the summer, many scoffed at the Old Lady for expending such amount on a player many saw to be past his prime, and Ronaldo's early season struggles seemed to lay credence to their spurious claims.
However, keen followers of Ronaldo's career know that impossible as a word does not exist in his dictionary, and he uses criticism as a springboard to silence his critics.
He has rediscovered his scoring boots, and currently sits top of the Serie A scorers charts with 17 goals from 24 matches, and while he may have lost out on the individual awards to Luka Modric last year, his personal battle with Lionel Messi remains.
As such, the Portuguese would be keen to add a fifth European Golden Shoe to his burgeoning collection to match the Argentine's haul (and despite turning 34 in a few days, don't count against him achieving that).
#

2 Kylian Mbappe (PSG)
What a career Kylian Mbappe has had thus far.
The prodigiously talented Frenchman burst onto world consciousness with his performances for Monaco in their fairytale 2016/2017 season where they won the Ligue 1 title ahead of French moneybags PSG and made it to the semi-final of the UCL.
Mbappe broke a number of Champions League records in that magical run, and his performances sealed him a mega move to PSG which made him the second most expensive player of all-time (behind teammate Neymar), as well as the most expensive teenager in the history of football.
Since then, Mbappe's career rise can only be described as the stuff of legends. He has been named the Golden Boy, became a World Cup winner, he was also the first teenager to score in a World Cup final since Pele almost exactly sixty years ago, has been nominated for the Ballon d'Or, won the inaugural Trophee de Kopa, and been established as a bonafide global star - all before he turns 21.
Mbappe has achieved more than most people achieve in three generations in just three years of being a professional footballer, and with him firmly in the race for the 2019 European Golden Shoe, winning it would only serve as a sidebar in what is destined to be an illustrious career.
Kylian Mbappe is the next big thing in football, and it is safe to say that he has the world at his feet (literally).
#

1 Lionel Messi (Barcelona)
Lionel Messi is looking to further extend his Golden Shoe record
League - Spanish La Liga (X2)
21 GOALS (42 POINTS)
Anyone anywhere in the world who does not instantly recognize Lionel Messi has probably been living under a rock for the last 15 years or had his/her memory wiped out - the Argentine's impact has been that far-reaching.
Ever since he burst onto the scene as a funny looking but mesmerizing talented 18-year-old at the 2005 U20 World Cup hosted in the Netherlands, it has all been an upward trajectory for Lionel Messi in a way arguably not ever seen before.
Messi's records are so numerous that repeating them here would be an exercise in futility, while his rivalry with Ronaldo has been the stuff of myths and legends, and if you did not witness it first hand, it would be tempting to discard it as an old wives' tale.
Lionel Messi is arguably the greatest player of all time, but beyond that, he is unarguably the greatest playmaker of his generation (and possibly in history), seeing spaces that no one else sees, and having the wherewithal to exploit them with pin-point dead accurate passes.
Beyond his playmaking abilities, Lionel Messi is also a goalscorer of the highest proportions, and this is perhaps best evidenced by the fact that he has won the European Golden Shoe a record-breaking five times.
Having been snubbed off the individual awards for the last couple of seasons (and not even making a podium finish this year), Lionel Messi has begun the season like a house on fire. He had a shoulder injury earlier in the campaign which halted his progress, but he returned earlier than expected and is almost on a one-man mission to restore his pride of place as the best player in the world.
In just 20 LaLiga matches, Messi has scored 21 goals, also adding 10 assists to help Barcelona sit top of the LaLiga standing. You can bet that he is the odds-on favourite to maintain the lead in this race to get his record-extending sixth European Golden Boot once the season comes to an end (although Ronaldo might have something to say about that).